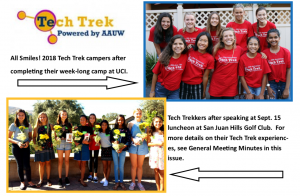 Find out about the 2018 Tech Trek UCI camp at    https://techtrek-irvine.aauw.net/
Our local branch is proud of its support for the Tech Trek program, a project of AAUW-CA. Tech Trek encourages young girls to pursue their interests in the fields of science, math and technology by offering scholarships to a weeklong science camp at UCI. The program is open to area girls who have completed 7th grade, have been recommended by a science teacher and have been chosen by a Branch committee on the basis of a written essay and a brief interview. We're delighted by the quality of our applicants.
Getting applications to the schools…picking up applications…reading essays of 19 talented and bright young women. We interviewed every young girl that applied.
We had to narrow down to 10 girls to go to Tech Trek Science and Math camp this July. Ask Kate Styles, Lee Field, Mary Jo West or me what an experience this was.
Each of these young women were so qualified for Tech Trek and all wanted to go. To pick only 10 was so hard. They all did an instrument or voice, participated in sports, top grades, and well spoken.
We have our yogurt gathering so the girls can meet each other and exchange info. Thanks for contributing to Tech Trek…it is a well worth program to expose young women to math, science, engineering, and technology. They are going to be leaders one day in these fields.
To request more information about Tech Trek click here.
---