2018-2019 Tech Trek Report
Eight young ladies who will enter eighth grade at Capistrano Unified School District Middle Schools this fall attended Tech Trek Camp at UCI from July 7-13. This hands-on STEM (science, technology, engineering, math) camp includes living in dorms on the UCI campus for the week, eating in the dining hall, and meeting new friends from areas throughout Southern California. One hundred thirty-five of one hundred forty AAUW branches sent students to ten Tech Trek camps in California this year.
There were six hands-on core classes including aeronautical engineering, chemistry. coding, environmental science, math, and videography. This camp is designed to develop interest, excitement, and self-confidence in young women. Campers toured various science and technology labs, a special highlight offered only at UCI.
Professional women and advanced students in STEM fields spoke with the girls about new fields of study and career options. Tech Trekkers participated in a field trip to Crystal Cove where they learned about environmental science and were permitted to go in the ocean as there were several life guards and an EMT on staff. One evening activity included making ice cream from liquid nitrogen and another entitled, A Bite of Reality, taught the students about financial responsibility, decision making with a partner, and making life decisions.
Plans are under way to start a Tech Trek Alumnae Group (TTAG.) Past campers who participate will hear professional women speakers; make visitations to scientific and technological businesses to learn of career opportunities and enjoy the company of like-minded companions with pizza, a picnic, or other such activities.
On September 21, at 9:00 a.m. our students will each share personal experiences and provide information about one of the above areas. We seek to increase the number of students who attend camp. Interested seventh grade girls fill out lengthy applications and write 400-500 word essays, parents give permission, and interviews are scheduled at school sites. We had to turn away many deserving students due to the cost of camp.
Your coordinators and the Funds Committee are working to raise funding so that more girls may participate in this experience. We sincerely thank our generous members who so kindly contributed to send our girls to camp. The fee per student was originally $1,000 for the week per student, but an additional $10,000 was added to the overall camp fee. Fortunately, grants were obtained by Camp Director Amanda Nguyen, relieving branches of the unexpected increase in fees.
We reserve the number of students we plan to send the coming summer in November. We especially appreciate those who are able to contribute early in the year as it is most helpful with our planning. We thank our San Clemente-Capo Bay Branch members for the support of this very special program and encourage our members to continue their efforts of behalf of deserving young ladies.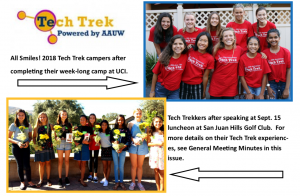 Find out about the 2018 Tech Trek UCI camp at    https://techtrek-irvine.aauw.net/
Our local branch is proud of its support for the Tech Trek program, a project of AAUW-CA. Tech Trek encourages young girls to pursue their interests in the fields of science, math and technology by offering scholarships to a weeklong science camp at UCI. The program is open to area girls who have completed 7th grade, have been recommended by a science teacher and have been chosen by a Branch committee on the basis of a written essay and a brief interview. We're delighted by the quality of our applicants.
Getting applications to the schools…picking up applications…reading essays of 19 talented and bright young women. We interviewed every young girl that applied.
We had to narrow down to 10 girls to go to Tech Trek Science and Math camp this July. Ask Kate Styles, Lee Field, Mary Jo West or me what an experience this was.
Each of these young women were so qualified for Tech Trek and all wanted to go. To pick only 10 was so hard. They all did an instrument or voice, participated in sports, top grades, and well spoken.
We have our yogurt gathering so the girls can meet each other and exchange info. Thanks for contributing to Tech Trek…it is a well worth program to expose young women to math, science, engineering, and technology. They are going to be leaders one day in these fields.
To request more information about Tech Trek click here.
---