Happenings with the College/University (C/U) Partnership Liaison Committee for Saddleback
Our CU (College and University) Committee, made up of our Mission Viejo and San
Clemente branches has been very active.
The most exciting news is that we have three new members on the C/U Committee: Two
of Saddleback College's most distinguished professors have joined: Economics Profes-
sor & Chair of the Honor Society Alannah Rosenberg, Law and Business Professor and advisor to the Pre-Law Society, Emily Quinlan, as well as administrator Tram Vo-Kumamoto, VP of Instruction. Two are automatically AAUW members because they have agreed to be AAUW Representatives : Alannah Rosenberg and Tram Vo-Kumamoto. Emily Quinlan is also joining AAUW. We are very pleased to have them in our branch.We have numerous events scheduled at both Saddleback and Irvine Valley Colleges. If you love being on college campuses and interacting with the students, sign up for some of the upcoming events or join our committee. We would love to have you!
Contact: Marcia Milchiker, Mmilchiker@cox.net 949.395.2052, Debbie Mecklenburg, Marge Sosa or Diane Ed- wards

Events:
1.  Candidate Forum in the McKinney Theater at Saddleback College. Sponsored by the Pre-Law Society at Saddleback College , Student Government (ASG), AAUW and League of Women Voters
2.  Don't Ghost the Vote (Ghost is a current social media term meaning disappear) – at Saddle- back College – a Halloween themed event getting registered students to commit to vote in the upcoming Midterm Elections. 4 – 20. With the League of Women Voters (LWV) we are registering students to vote at both Saddleback and Irvine Valley Colleges. We have lots of dates available if you would be interested in taking a 2 hour shift on one of our college campuses.
Student Governments, the Pre-Law Society, and many of our students are on board and support the above events. The students believe it is important to get their fellow students excited about getting all students involved in the political process.
The CU committee has successfully recruited both Saddleback and Irvine Valley Colleges to become College Partners with AAUW. The $ 175 yearly fee/college allows all students to join AAUW for free. Check out other AAUW CU Partnerships advantages for CU students on this website: https://www.aauw.org/membership/college-university-partner/ .
There is an article in the current (Fall 2018) AAUW CA Prospective written by Donna Lilly that highlights our committee's work. The article is entitled "How to Impact Campus Students."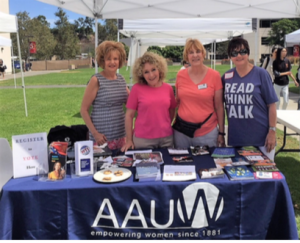 The article mentions that our CU committee since 2013 has offered Start Smart workshops (how to negotiate a better salary), plus Elect Her work- shops, movies, an all-day incredibly successful Women's Leadership Forum (2017), an Equal Pay Day Forum (2018), and have sent two students to the National Conference for College Women Student Leaders (NCCSWL, www.nccwsl.org ) at the University of Maryland where in 4 days they learned leadership skills and networking with other talented women students.
Helping local students succeed on our colleges' campuses is, directly related to AAUW's mission. We hope you will join us!